Marcus Oaks has a great physique – his body is muscular, with great definition. He has short blonde hair and a really confident air about him – there's no shyness in front of the camera and he happily strips down to his tight boxers which holds a really tempting bulge!
He tries on a couple of pairs of underwear for us, before we call Dan in with the baby oil! Marcus seems to enjoy his bum being massaged, Dan pulls apart his bum cheeks and lets us see his hole – with just a little of his fair hair surrounding it.
Some of the oil drips down on to Marcus's very thick uncut cock, which quickly gets solid! Dan Broughton gets to play with it, and show off his hole, before Marcus lays back and lets Dan make his big uncut tool shoot – and its a massive shot – covering his abs and chest!
Tags: Dan Broughton, English Lads, handjob, Marcus Oaks, straight, uncut cocks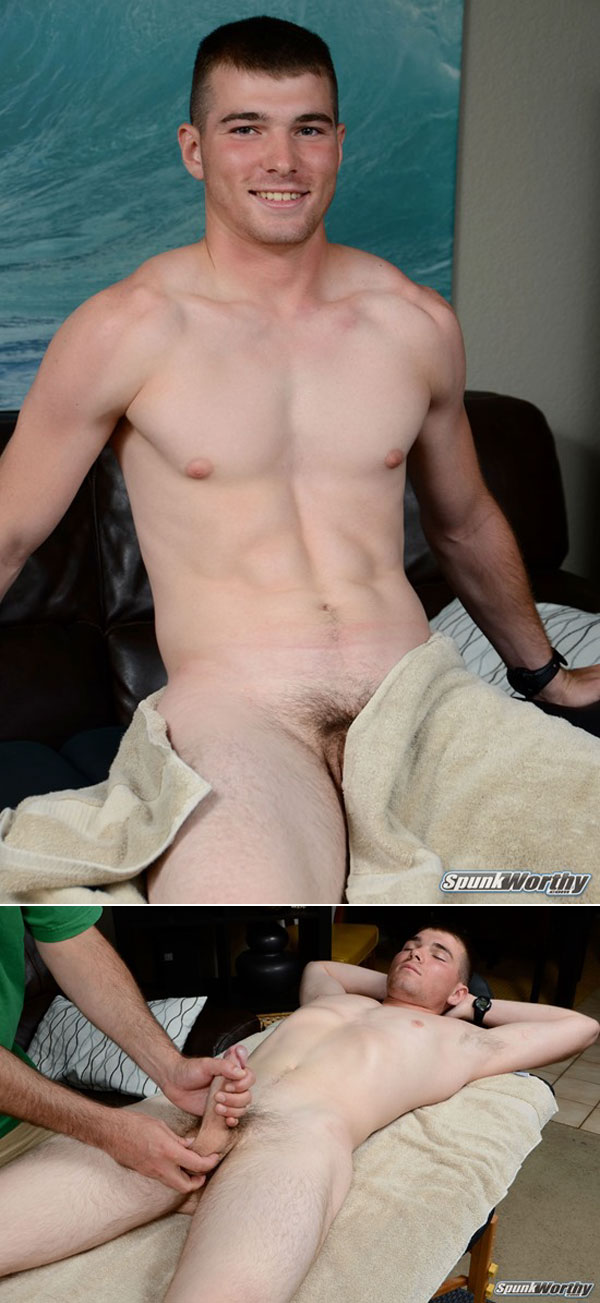 Straight marine Randy is back at Spunk Worthy. A couple of weeks ago, he did his first porn video ever and it seems he enjoyed it. He's not afraid to explore his boundaries and agrees to a massage.
The video starts with a hot massage indeed, but that's not where things end for Randy. When the guy from Spunk Worthy (Jason) starts to stroke his cock, he didn't resist. He even let the Jason suck his cock for a moment.
The helping hand does magical things, since Randy shoots a big load and just when you think he's finished… he shoots out another big squirt of cum. I am quite sure we will see more of the sexy straight marine. For now, enjoy this video!
Tags: handjob, marine, massage, Spunk Worthy, straight