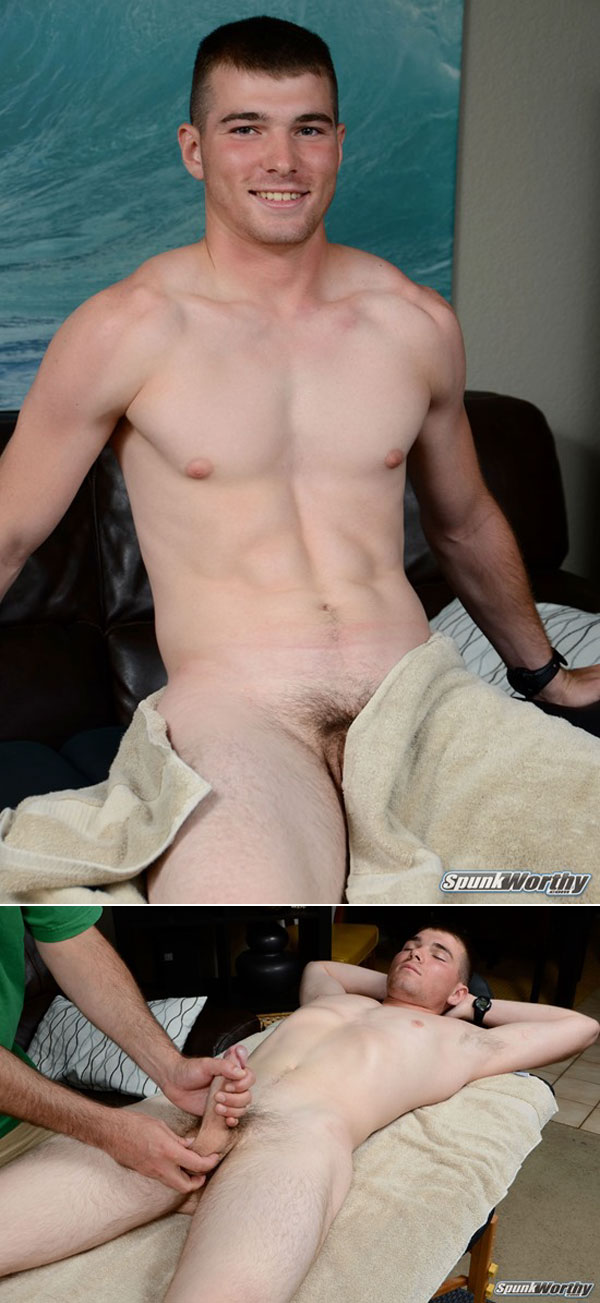 Straight marine Randy is back at Spunk Worthy. A couple of weeks ago, he did his first porn video ever and it seems he enjoyed it. He's not afraid to explore his boundaries and agrees to a massage.
The video starts with a hot massage indeed, but that's not where things end for Randy. When the guy from Spunk Worthy (Jason) starts to stroke his cock, he didn't resist. He even let the Jason suck his cock for a moment.
The helping hand does magical things, since Randy shoots a big load and just when you think he's finished… he shoots out another big squirt of cum. I am quite sure we will see more of the sexy straight marine. For now, enjoy this video!
Tags: handjob, marine, massage, Spunk Worthy, straight
Jacob is a 21 year old straight marine from the US. During his days in the army, he has collected quite a few tattoos that go well with his toned body. Jacob says he has a girlfriend, but he jerks off at least three times a day. He hasn't jerked off in the days before the shoot to save up a big load. It was quite hard not to jerk off, he says.
The video starts with Jacob telling a few things about him, but it doesn't take long before Jacob strips down to his birthday suit. A few strokes get him rock hard and he manages to stay hard all the way to the end of the video. Jacob loves to show off his body and isn't affraid to spread his ass cheeks to show us his pink virgin hole.
As Jacob sits back on the black leather couch, he jerks faster and faster, working his way to a very intense cumshot. You can tell he saved his load for a few days, because his cumshot is amazing. The thick jizz almost hit his chin. Hot video!
Tags: jerking off, solo, Spunk Worthy, straight, tattoos